Can someone help me figure out what is going in this pumping system?
Can someone help me figure out what is going in this pumping system?
Hi all,
I am an intern working on this project, I am wondering if you can help me out with figuring out this pumping system?
Here is a sketch for the system: 2 identical pumps connected in parallel drawing from an atmospheric pressure storage tank, pumping to two discharge locations, and there is another 2'' re-circulation line with a around 60% closed manual valve at the end of the line.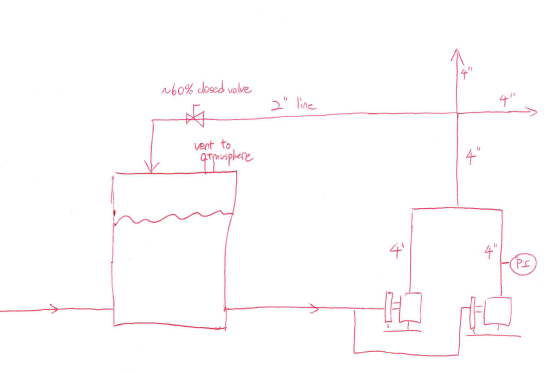 There is only one pressure gage on one of the discharge lines. The pressure reading is 80 psi. This one pressure gauge was newly put in so it shouldn't be defect.
Here is the pump curve for the 2 pumps. (Both have 8'' impeller diameter)
https://res.cloudinary.com/engineering-com/image/upload/v1501764838/tips/2K4x3-10_Curve_at_3550_rpm_esa28a.pdf
I added the flows together and made a pump curve with 2 pumps in parallel here.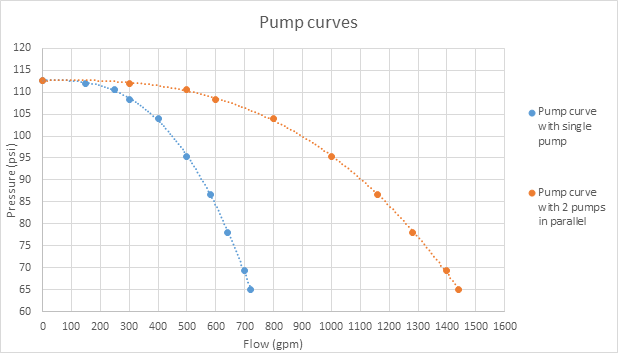 Here is what's weird. The two discharge locations are only taking in on average 400 gpm of flow, maximum 500 gpm. The discharge pressure is 80 psi, although there is no suction side pressure gauge, but since the suction side comes from an atmospheric storage tank,the total pump head should be around 80 psi, which corresponds to around 1250 gpm. However I doubt that that the 2'' recirculation lines with a 60% closed valve is carrying the rest of the 750 gpm. I explained this to a pump mechanic at the plant, and he told me that water might be recirculating inside the pumps. I looked up suction and discharge recirculation within pumps, and found out that it's not good lol. However I'm not sure if 750 gpm could just recirculate within the two pumps.
I know that's not a lot of information to really fully comprehend the issue, but since I am just an intern I can't ask for more pressure gauges or flow meters. Wondering if you can help me figure out what is happening here; are the pumps performing below expectation, is 750 gpm just being recirculated through the 2'' line or is 750 gpm recirculating inside the pumps? Which scenario is more likely?
Thank you all in advance.