isometric abbreviation
isometric abbreviation
Hi All,
Does someone familiar with the abbreviation of WR. S on isometric below?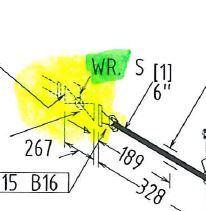 Sometimes WR. S, sometimes WR. E or WR. N and it always pointing to the hand-wheel.
Thank you in advance,
Regards,
MR
https://nosuchvalve.com
All valves will last for years, except the ones that were poorly manufactured; are still wrongly operated and or were wrongly selected

http://www.eng-tips.com/faqs.cfm?&rat1=2&f...