Best method of retaining bond between collars/plates on motor shaft
Best method of retaining bond between collars/plates on motor shaft
Hello,
I hope I can state this concisely and clearly for you all.
I have a small 12v motor (automotive heater blower motor to be exact). It has a 5/16 "D"-shaft.
Mounted on the shaft is a "propeller" (for lack of a better term) sandwiched between two shaft collars.
The motor does not produce tremendous RPM (maybe 1000) nor torque, and unfortunately, i can tell you neither...it is the size of your fist.
The propeller has a 5/16 hole thru it, with no "D"..just a full hole.
This leaves the only method of preventing the prop from unwanted spinning..is the compression between the two shaft collars. I prefer NOT to use glues/welding, as that makes disasassembly impossible.
Granted...a single hole drilled thru all 3 with a pin or screw would prevent spin...but that is not an option labor/effort/tooling wise.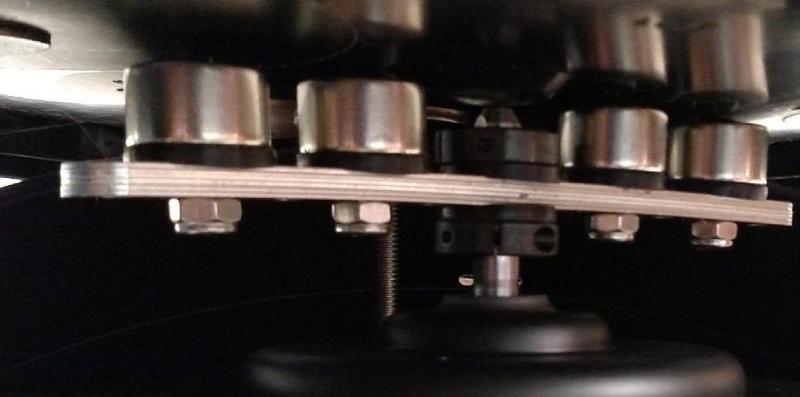 To date, I have used:
1.) Star washers between the collars and the prop - This required a difficult clamping process of the collars to create friction on star washer before tightening collars. And it also applies a side load to shaft collar. Not sure if that matters.I drizzled a little epoxy over the assembly before final tightening.
I dislike this assembly because it requires extreme clamping of collars to affect any real friction on star washers. Wrong solution.
2.)By the time this pic was taken, I had upgraded the components, and switched to faucet washers which required much less force to retain friction with the propeller.
This was a far, far easier assembly with regards to the clamping and tightening of collars, and utilizes no epoxy...which allows for repair/disassembly.
My concern is this: All my life I have seen rotten, decomposing hose-washers, faucet washers, gaskets, o=rings, etc.
I have no idea whether these washers are rubber, HDPE, or what. I do not know their performance under the rather extreme pressure they are under, nor their lifespan. It worries me that they could decompose and compromise the device. They still don't seem like the right fit. I do not feel that the faucet washers are a proper solution.
Which brings me to my questions.
1.) I have considered that perhaps there is some sort of coating that one could paint on the two surfaces to increase their friction...perhaps some sort of Loctite offering like this:
https://www.mcmaster.com/#91458A520
2.) I am really leaning towards rubber coated zinc washers..I presume they would have at least a 10 year lifespan?
https://www.mcmaster.com/#90130A030
3.) But there are also just EDPM rubber washers, Buna-rubber washers, etc.
And these look cool too, but don't provide near the surface contact of zinc rubber-coated or a rubber washer.
https://www.mcmaster.com/#93783A030
So, in closing...do the rubberized washers seem like the way to go? Or should I go with a coating, or some sort of other mechanical solution?
Thanks so much for any comments or advice.