#5 vertical rebar dowels post-installed with HIT HY 200 to develop horizontal shear
#5 vertical rebar dowels post-installed with HIT HY 200 to develop horizontal shear
I am reviewing a sketch with a call-out of #5 grade 60 dowels @ 6" c/c, with 5-5/8" embedment with HILTI HIT HY 200 resin.
4000 psi concrete, assumed UNcracked, non-seismic, no edge distance effects.
I wish to get a quick confirmation of ultimate capacity using the HILTI tables (withOUT direct calc of Appendix D of ACI-318).
So Table 19, #5 rebar, 4000 psi uncracked concrete, ΦN
n
= 11,925 lb.f: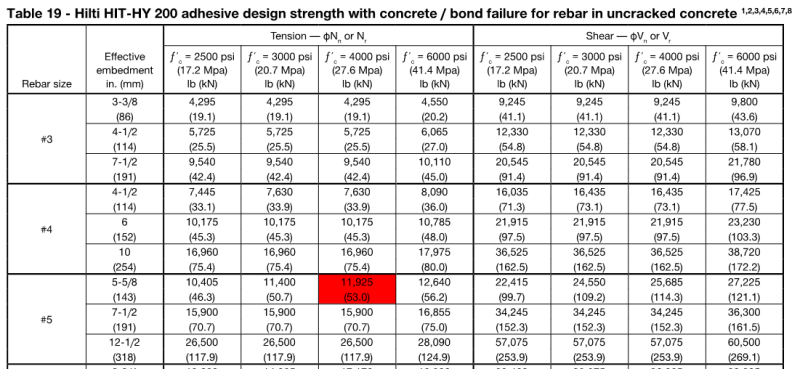 Spacing factor of 0.68 for 6" spacing of dowels: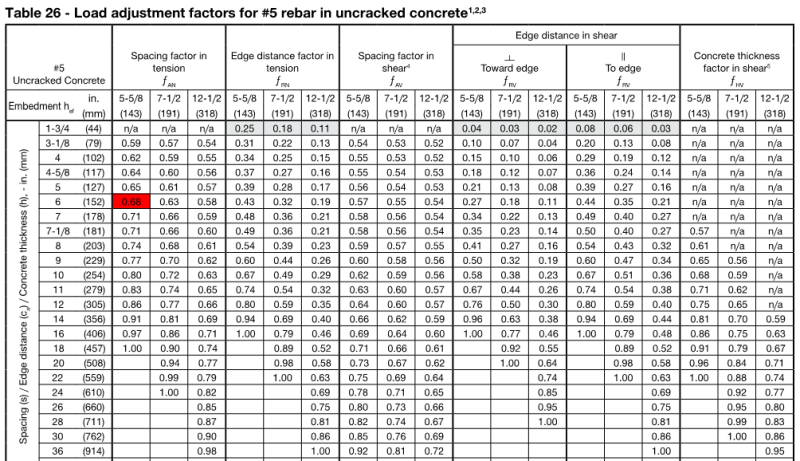 So effective ultimate capacity is 0.68*11,925= 8,109 lb.f
Assuming this is correct, this detail is a long way short of developing F
y
of the #5 (18.6 kips), as required for shear-friction. Agree?
Intuitively, 6" embedment for a #5 is what I may use for a non-structural curb, or a dwarf wall, not something 'structural'.
What am I missing here before I piss of the engineer on the other end?