Heat Dissipation - Cut Heat Sinks into Enclosure
Heat Dissipation - Cut Heat Sinks into Enclosure
Hello all,
First time post, long time reader.
I am designing IP65 Electrical Enclosure with 80w internal Heat load. It is small and dont have a lot of room for vents, the only IP65 vents I see are made for large off the shelf enclosures.
I have 2 questions:
1. What is the external solar load I need to consider?
Based on charts below, aluminum enclosure, clear anodized, with 20deg delta T between ambient and internal, should not have a solar heat gain. Correct?
2. Calculate Internal Air temp with fan, inside of sealed enclosure?
What is the best way to calculate cooling effects in a sealed, small enclosure(12in x 8in x 6in )
Most of the cooling effect comes from the temperature differential but I want to quantify the air movement effects and if increasing the fan flow rate would improve cooling 20-30%
See my Calculation Page as an attached file,
http://files.engineering.com/getfile.aspx?folder=0...
it is based on surface area of the enclosure, plus the additional area of the fins that are cut into the side.
See also, the box geometry here,
http://files.engineering.com/getfile.aspx?folder=7...
Current Calc Sheet that I have going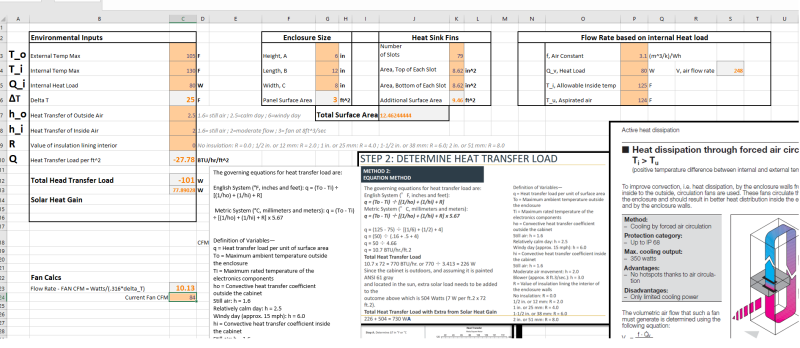 Chart for Solar Heat Gain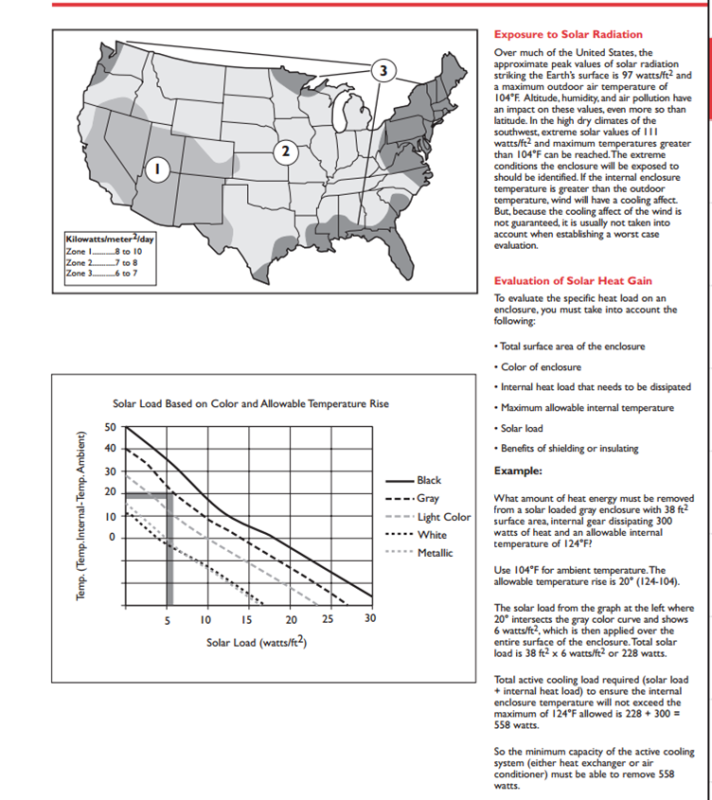 Thanks for all of the help!