Dots and Crosses
Dots and Crosses
Starting with a grid of dots, 5x5 like this: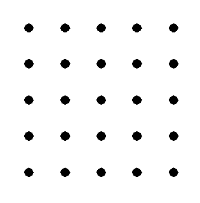 Can you draw a cross that encloses 5 dots, and leaves 8 dots outside the cross?
Below is a failed example. There are five dots in the cross, but only 4 outside: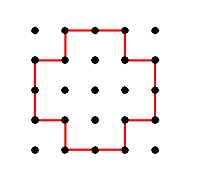 Can you draw the cross that works?
EDIT: THE ORIGINAL INTENT WAS TO CONCEAL THE ANSWER INSIDE A CLOSED "SPOILER" WINDOW.
SINCE THE WINDOW REMAINED OPEN, THE FIRST MEMBERS TO VIEW THIS PUZZLE SAW THE ANSWER RIGHT AWAY. SORRY!
I HAVE DELETED THE ANSWER, AND WILL POST THE ANSWER IN A SEPARATE POST LATER.
STF