Possibility of modelling a transient thermal analysis in Abaqus
Possibility of modelling a transient thermal analysis in Abaqus
I want to check the possibility of modelling a transient thermal analysis in Abaqus. The description of simplified model is as below:
Consider a rectangular cube like the below figure: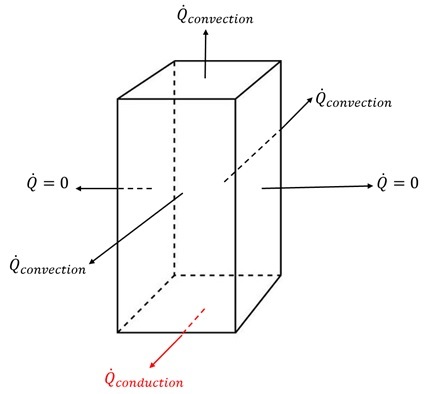 Boundary Conditions:
1. Conduction heat transfer from bottom side.
2. Zero heat flux (adiabatic) from two sides.
3. Convection heat transfer from other two sides and the top side with different heat transfer coefficients.
4. Different initial temperatures; one value for top side and one for all other sides.
My aim is to run a transient thermal analysis to get the following result sets:
i. Obtain transient circumferential temperature distribution on top side.
ii. Monitor the changes on the top side temperature distribution by changing the amount of conduction heat on the bottom side.
Could it be modeled with Abaqus?
Many thanks