Thoughts on this fuel cell.
Thoughts on this fuel cell.
I was shown this by a friend/engineer and recognize it as one of those items that seems really 'cool' at first glance but then others can point out pluses and minuses that never crossed one's mind.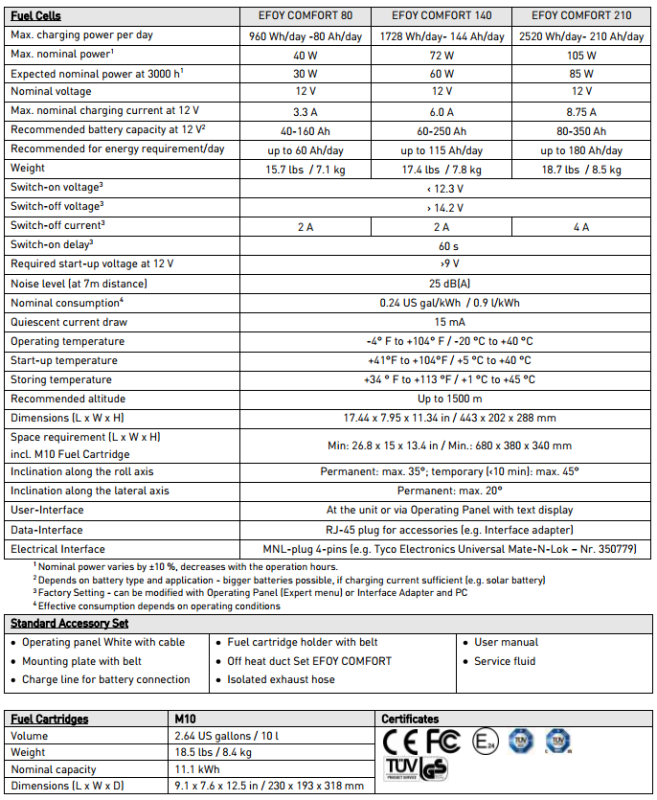 This is an apparently quasi popular fuel cell system a lot of vehicle camper types use successfully.
I'm not sure I like the dependance on "packaged fuel". I haven't figured out the efficiency yet either. Looking at the 105W unit it appears it would run for about 4 days(24hr) on 2.6gal of fuel.
My first response is to compare it to solar panels but that's a bit of an apples to oranges comparison. Fuel/no-fuel. Then to a generator which is a better comparison, more like an apple(Gravenstein) to apple(Red Delicious), based more around the exhaust chemicals mix and noise/vibration.
I was shown this in light of a camper build-out but thought about specifying it for use in some field instrumentation/control scenarios.
Any thoughts or discussion welcomed.
http://www.efoy-comfort.com/technical-data
I believe the smallest one (40W) sells for about $3.5K...
Keith Cress
kcress - http://www.flaminsystems.com