Help setting Displacements - Patran 3D solid
Help setting Displacements - Patran 3D solid
Hello,
I would like a guidance to set displacements in my 3D solid. (I attached my geometry.) It is a laryngoscope that inserts in a patient's mouth. At the top of it the doctor hold and push it (approximetely 50N force) in order to guide it inside the mouth. In the middle of the area where the curve starts there is a point which is the centre of rotation.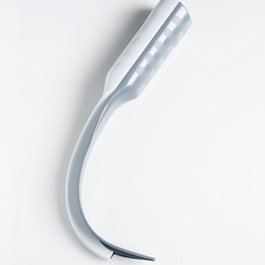 I attached a video in order to show you how this tool works (just for demonstration purpose, not for advertisement) (0:30 min):
https://www.youtube.com/watch?v=Djy10C4uLA8
Thank you in advance.