Bearing arrangement - comments please
Bearing arrangement - comments please
I'm designing a small wind turbine drivetrain that is handling significant axial load in 1 direction (Fa >> Fr) and a very small radial load on both bearings.
1. Locating / non locating bearing arrangement. Is it possible to use a spherical roller bearing for the locating bearing and a radial insert ball bearing for the other, like this??
Or are we limited to the examples like in the guides from
FAG
&
SKF
?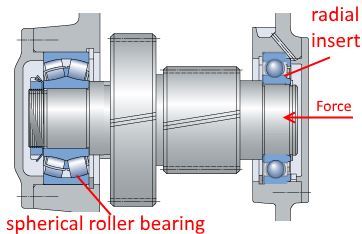 2. Tapred bore with adapter sleeve, lock nut and locating ring + stepped shaft - can they accommodate significant axial loads? I've rlooked at the SKF, FAG and Timken design guides, but they don't mention anything on this.
2. Locating bearing housings: Is it possible to use plummer block units instead of flanged housings to house the locating bearing? If I use plummer block housings, the thrust forces will create moment on the 2 bolts fastening the plummer block housing down (4 bolt ones not available for the size I'm using). Welding the block down would risk misalignment.
I've tried googling (can't find) and tried calling Timken, Schaeffler, Koyo and SKF in my country to get help from their application engineers, but I keep on getting redirected to sales all the time.
Thank you!