Multiple return periods in a single drainage system
Multiple return periods in a single drainage system
Akel
(Civil/Environmental)
(OP)
Hello all,
As far as I know, in the design of an urban storm drainage system where drainage pipes pass through residential, local and collector roads, the whole system should be designed for a single return period (say 10-Years) and checked against a higher return period (say 50-Years) for possible flooding.
But what I'm being asked to do is to design the tertiary (residential) pipes for a 10-Year return period, the secondary (local) pipes for 25-Years and the Primary (collector) pipes for 50-Years. The logic being that flooding of residential roads can be tolerated while flooding of collector roads can not. See the attached drawing for an example.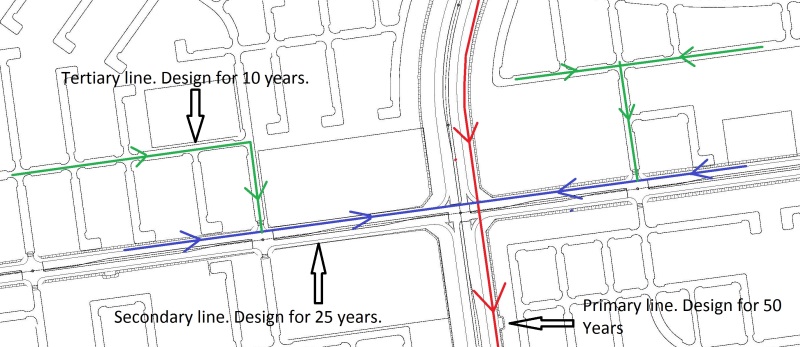 So what is the correct approach for the design. Should the pipes be designed with different return periods based on classification? Or should I design the pipes for the larger return period, but would give me oversized pipes upstream?
Thank You.