Element mass properties - Product of Inertia sign convention
Element mass properties - Product of Inertia sign convention
Hi everybody,
I am glad to be part of eng-tips forum community - definitely one of the most helpful of the web - and I am very thankful to be able to write my very first post about Femap w NX Nastran.
I am an MSc student in mechanical engineering and I am working on my final thesis, dealing with modeling and simulation of ICE sub-assemblies dynamics by means of a lumped parameters approach.
I have the FE model of the components to be represented as rigid bodies, described by their mass and inertia properties.
Here comes my question: when asking Femap to calculate mesh mass properties, what is the sign convention adopted for products of inertia Ixy, Iyz, Izx?
As far as I am concerned, the following definition stands for inertia matrix:

The former can be represented as

if we assume

But sometimes, some authors use the following: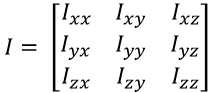 In Femap "mass properties tool" output, what is the sign convention adopted?
Moreover, aa I right assuming the same definition holds for both mass properties output and mass element definition?
I haven't been able to find any hint either in Femap and NX Nastran help.
Thank you for your kind attention.
Ciao,
Edo