Capstan/Pulley Radial Load calcs
Capstan/Pulley Radial Load calcs
Hi all
I have been trying to calculate radial loads on a capstan for a belt drive system. I have not been able to find much on this topic; or the ones I have found seem too complex as these methods uses Fourier series making things too complicated.
I found a research paper for this which has a simple equation to calculate the pressure acting radially upon the capstan/pulley.
pressure P(Θ) = T(Θ)/(R.b)
where T(Θ) is the Tension dependent upon Θ
and R is radius of capstan; b is width
As it is a driving pulley, the belt tension is different on either side. The tension profile can be seen below (image).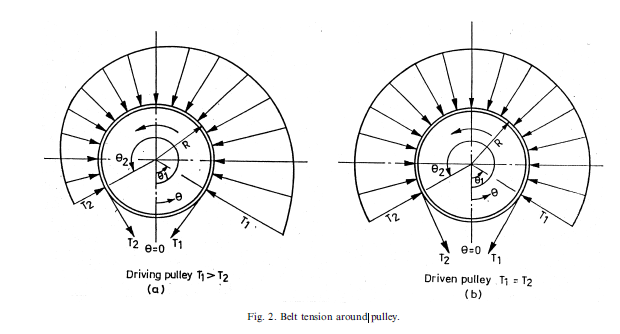 Based on the formula and after calculating the radial pressure load; I've found the radial pressure load profile to be the same as the belt tension profile; i.e. the load increases as you go along the circumference (where belt is wrapped) towards the high tension side. Hence the pressure peaks out on this side.
As this is a dynamics case, I didn't think using a static basic pulley force resolving would give accurate results. But I am not sure if this technique is correct or even close.
Can anyone please provide me guidance on this? Any help would be appreciated.
Regards
Kishore
Stress Engineer