hollow metal insert is deformed
hollow metal insert is deformed
hi, I am trying to mould a rubber ball of 120 mm in Dia. Inside of this rubber ball is a hollow metal ball of dia 110 mm means rubber should cover it up by 5 mm on all surface. (it can vary upto 1 mm) My problem is that while I get the moulding out of the mould and cut it I get the metal ball pushed inside. See the picture.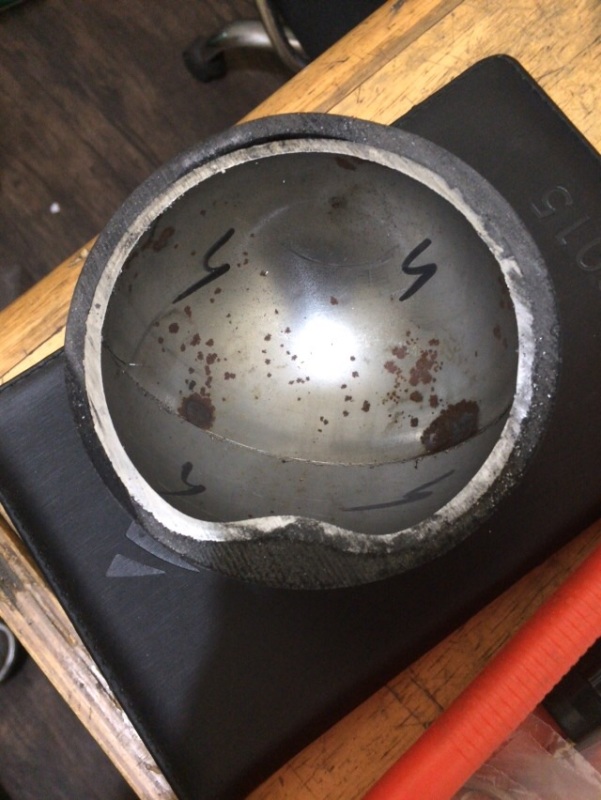 Rubber - Nitrile
Process - Compression moulding
Hardness - 70 Shore A
Exact process is that we have made 6 mm thick sheet of raw rubber. We wrap it around the metal ball (somehow)equally distributed all around the surface and no gaps visible when it is wrapped completely. Put it in mould and compress it. Temperature - 170 degree centigrade for 15 minutes for curing. 10 times I did this same process and all the balls have same issue.
Metal ball weight - 1000- 1015 gms
Moulded ball weight - 1305-1310 gms
We are putting 15 gms extra rubber. (Ball wrapped with raw rubber is weighing 1320-1325 gms)
Can anyone guess where the problem is?
Thanks
Deepak